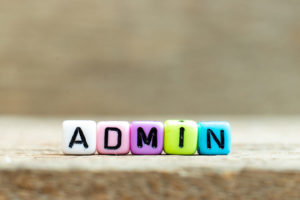 MyeliNetSM gives you the power to manage financial reporting, add new users and set user permissions, run productivity reports, and more.  Our administrative controls put managers in the drivers' seat, without the need to enter tickets or involve software engineers in basic management functions.
In our secure system, the functions and informational areas users can access are defined by the roles assigned to each user. Administrators can quickly define those roles for users with a few mouse clicks.
Invisible Access Points
With our role-based permission system, users are never frustrated by clicking on a function or trying to access an area that is not open to them. MyeliNet simply doesn't show a menu choice or present a link that a user is unable to access based on their role.
Roles can be adjusted without the need for making a new account. Promoting someone to admin access is only a mouse click away for an administrator whose role allows them to edit system permissions for users.
New Features and Updates by Role
As new features and updates are added over time, each can be rolled out to users with appropriate permissions, or new permissions can be assigned to existing users.
There is never a need for major reconfiguring of the system to keep things moving.
At MyeliNet, we understand EI professionals better than any other software provider. Find out if MyeliNet is the best fit for your practice or agency by calling +61 (0) 3 8376 6284 to try a free demo of our software.