What is a Web Portal?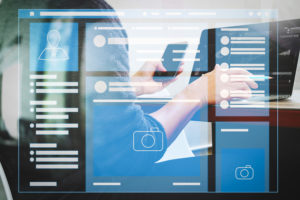 You have probably run across web portals online without necessarily knowing the name. A common place to find one is on a health care website, where you might use your email address and a password to access medical records, check what medicines have been prescribed, or see when your next appointment is.
A web portal often is designed as a kind of dashboard. On one part of the screen may be a chat window and on another pending appointments are shown.
When it comes to our MyeliNetSM software, the integrated parent/guardian portal provides a single access point where parents/guardians and therapists go to see therapy plans, developmental progress, check on appointment schedules, and much more.
Benefits of Using a Web Portal
A web portal facilitates record keeping, calendaring, and communication. The portal provides parents and guardians with notifications, allows them to ask questions, and track's a child's progress all in one easy-to-check place online.
Portals provide for improved interaction and enhanced awareness, bringing separate pieces of information related to Early Intervention all into one place.
It's all about making things personal and meaningful to parents and guardians, while providing therapists with an easy way to keep track of treatment plans, schedules, and responsibilities. In this way, web portals make therapy and record keeping more accurate and time efficient.
Customization
Your Early Intervention services may benefit from specific tweaks or customizations to the information displayed in your MyeliNet web portal. We can work with you to fine tune the experience for the benefit of your specific clientele and their expectations.
The MyeliNet portal can be used to improve communication, streamline your service delivery process, and better manage data for both client therapy and service delivery.
Best of all, a client portal is one of the key features that can help your Early Intervention services grow.
Your demo is only a phone call away. Give our team a call at +61 (0) 3 8376 6284. You'll see why MyeliNetSM provides a reliable, affordable, and easy-to-use answer to your EI software needs.