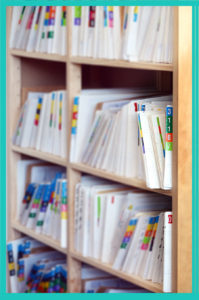 Except for serving the kids and their families, few things are more important in Early Intervention than records management. When past records begin to pile up, important documents may become lost in the shuffle. When organizing both physical and digital documents across multiple families and service providers, the problem compounds.
MyeliNet solves this by keeping your client and provider files online in an easily searchable, user-friendly database. Eliminate the need for paper documentation with our cloud-based software that instantly backs up important data for safe keeping. With MyeliNet, all clinical documentation is retained securely and is easily accessible when it is needed.
Customization
MyeliNet gives EI professionals the ability to create their own custom templates for forms, session notes, and other important documents. Apply your practice's logo to therapy notes to add personalized branding to your important documents. The form templates provided by MyeliNet allow for the creation of documents that are easy to modify to your practice's needs and state requirements.
Automating Policies and Procedures
Our software simplifies the record-keeping process by allowing you to create custom templates for each document type, share them with the rest of your practice, and automate control processes to comply with state and local regulations. This ensures that your practice avoids the risk of being accidentally non-compliant, saving you the financial risk from subsequent fines and penalties.
Maintaining Quality Standards
MyeliNet eliminates the need for physical record-searching thanks to the built-in search functionality that allows for easy document retrieval. Our software allows users to easily dig back into the archives and produce past documentation, eliminating the need for physical record-keeping. Additionally, all of the information is backed up into our cloud servers.
Ready to streamline your record-keeping process? Give our team a call at +61 (0) 3 8376 6284. You'll see why MyeliNetSM provides a reliable, affordable, and easy-to-use answer to your EI software needs.